Stress Management Could Help Decrease Pain

A recent study by Dr. Pierre Rainville and Étienne Vachon-Presseau from the University of Montreal has shed some light on the relationships between stress, the brain and pain. Their study compared 16 patients with chronic back pain with a control group of 18 healthy subjects. They found that back pain patients had higher levels of cortisol than subjects from the control group. Cortisol is produced by the adrenal glands and is secreted in response to stress. It's a steroid hormone that increases blood sugar levels, suppresses the immune system, and may decrease bone formation; so an excess, particularly when maintained over a long period, is detrimental to health. The higher cortisol levels were associated with smaller hippocampal volumes. The hippocampus is a part of the brain that is involved in learning, memory and regulation of emotion. People with depression and post-traumatic stress disorder have been found to have hippocampal atrophy. The subjects with chronic back pain had stronger responses to pain stimuli in a brain region involved in anticipatory anxiety in relation to pain. Brain activity in response to the painful stimulus partly reflected the intensity of the patient's current clinical pain condition.
The findings can be summarised in the following flow chart.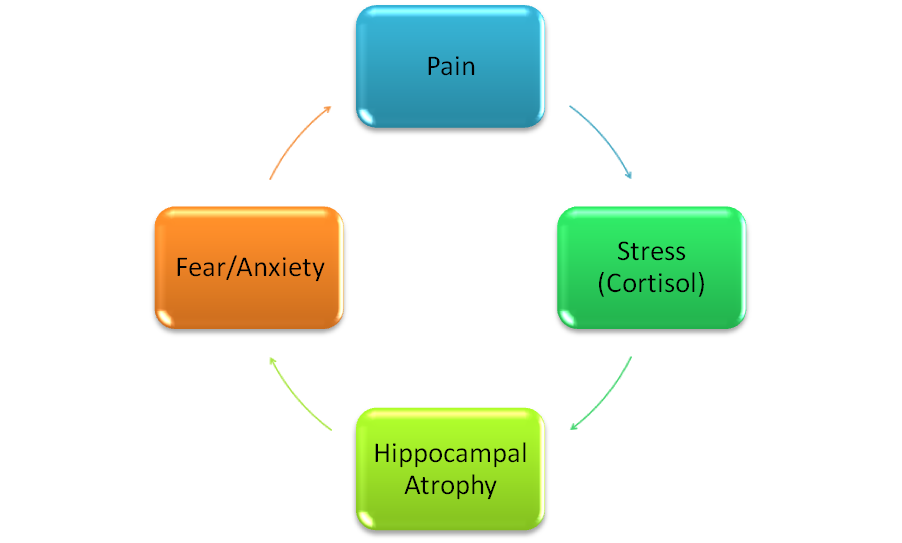 The authors suggest that stress management techniques such as relaxation and meditation should be used to complement medical treatments in patients with pain. They believe this can help to decrease the impact of pain and perhaps even prevent chronicity.