Last week I picked up a copy of Metro and came across an article entitled "Back pain 'cured with a £114 dose of antibiotics'". The story has also been covered by theguardian, The Times and the NHS. It's based on the results of 2 studies published in the European Spine Journal by Hanne B Albert et al. from the University of Southern Denmark. It appears that oedema (swelling) of the vertebrae is observed in 6% of the general population and in 35-40% of people with low back pain. In their first study, Albert et al. examined 61 patients that had MRI-confirmed disc herniation and were undergoing surgery to address this. The disc material was analysed and it turned out that anaerobic bacteria were present in 43% of patients. Of those with anaerobic bacterial infections, 80% presented with oedema of the vertebrae next to the disc prolapse. Whereas only 44% of patients with negative cultures had bone oedema of adjacent vertebrae. The association between anaerobic bacterial presence and bone swelling was highly statistically significant. It's thought that bacteria reach the inside of intervertebral discs via newly formed blood vessels that penetrate the damaged discs. The flow chart below shows how the process takes place.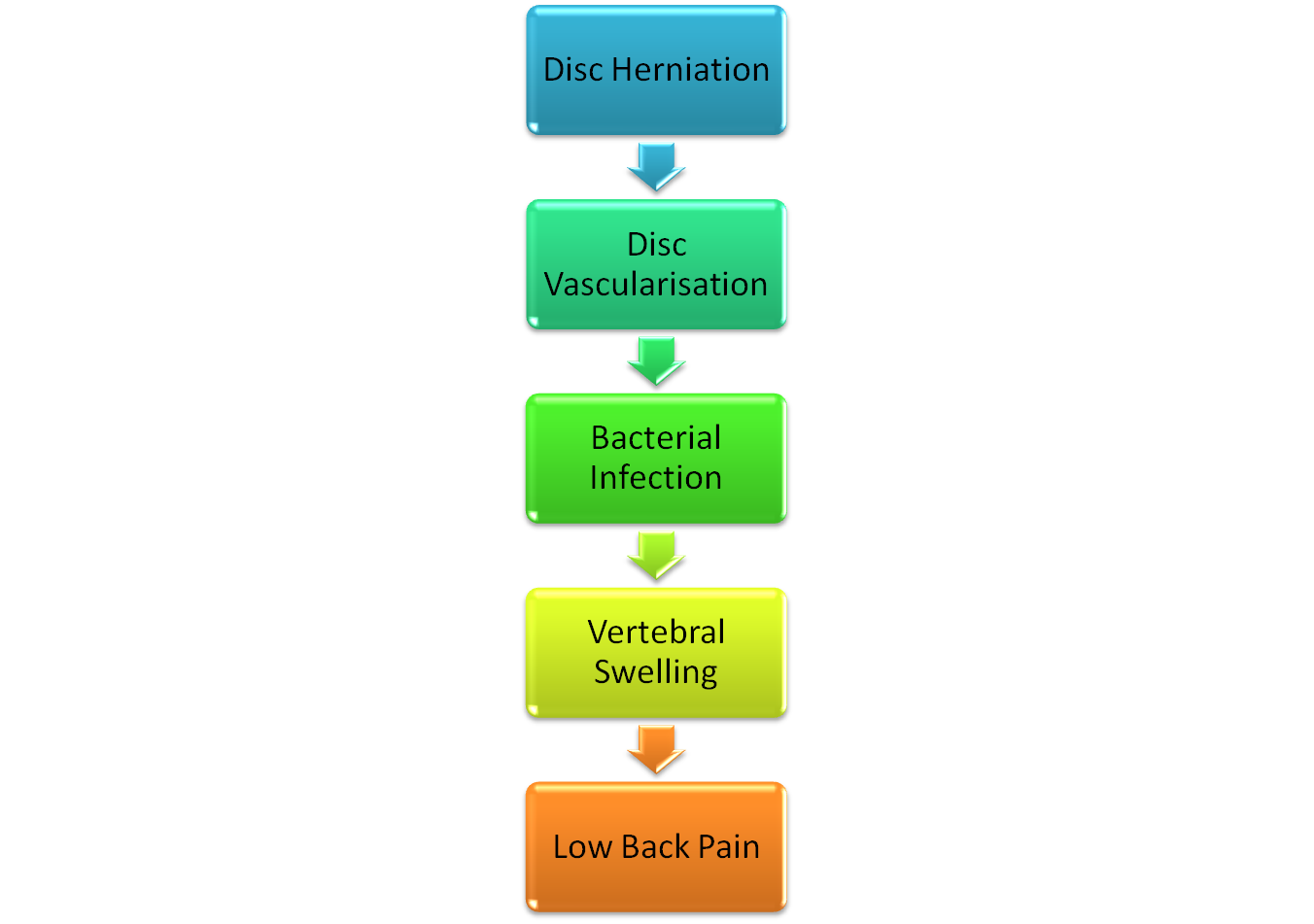 In their second study, Albert et al. conducted a double-blind randomised controlled trial with 162 patients whose only known illness was chronic low back pain of greater than 6 months duration occurring after a previous disc herniation. They also had bone edema in the vertebrae next to the previous herniation. The patients were split into 2 groups. One group was given antibiotics for 100 days and the other group was given a placebo for 100 days. The patients were evaluated at the start of treatment, at the end of treatment and 1 year after the end of treatment. The patients given antibiotics improved on all measures; they had less low back pain, less leg pain and better function and the changes were highly statistically significant.
Although these results are extremely encouraging, they should be confirmed with larger groups. Additionally, it's worth bearing in mind that this form of treatment only applies to a subgroup of people with low back pain and that the indiscriminate use of antibiotics for low back pain should be discouraged as it could lead to decreased efficacy of antibiotics through the spread of drug-resistant bacteria.